This game was released on May 05, 2017 and is no longer available to pre-order. Any incentives that were offered are listed below.
Prey is an upcoming first-person shooter developed by Arkane Studios (known for their work on the Dishonored franchise) and published by Bethesda Softworks. The game takes place in a space station Talos I, where research on an alien species called Typhon is performed until the non-terrestrials escape containment, slaughtering most of the crew members.
The player steps into the shoes of Morgan Yu, a high-ranking executive at the TranStar Corporation, who has to brave the isolated space station overrun with hostile aliens. Fortunately, Yu is armed with more than just weapons; he is also capable of using various alien powers learned from studying the Typhon.
Pre-order bonuses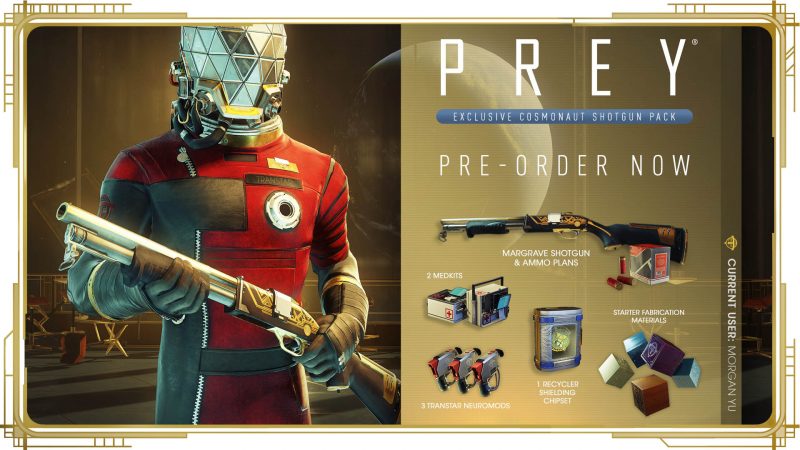 Pre-order Prey to receive the Cosmonaut Shotgun Pack depicted above. The pack includes the following in-game items:
Yu family's heirloom Margrave shotgun
3 Neuromods for acquiring new abilities
2 Medkits
Fabrication plan to create Shotgun Ammo
Starter kit for building tools and weapons
Unique upgrade (Recycler) to help preserve your limited resources
Additional bonuses can be acquired by pre-ordering via the following retailers or digitally:
Amazon: Prey Original Game Soundtrack Selections by Mick Gordon, composer of the award-winning DOOM Soundtrack. Contains five tracks that combine ambient guitars and heart thumping synth beats to help you face off against the alien threat. 20% off the game for Prime members.
Best Buy: dual cover SteelBook with unique alternative art. 20% off for Gamers Club Unlocked members.
PlayStation Store (digital): "Prey: Point of Origin" Theme. 10% off for PS Plus members.
Bethesda is also running a Prey promo: take the "Transtar Personality Test" at transtarawaits.com to see if you're suitable for work aboard Talos I, and you'll have a chance to win 4K home theater as well as other prizes.
Gameplay preview
The video contains eight minutes of gameplay with the developers' commentary.
Prey is scheduled to release on May 5, 2017 worldwide.
Check out our other upcoming shooter games and upcoming pc games.